The COVID-19 Monitoring and Assessment Program (MAP) was created in spring 2020 to develop and expand the university's testing capacity for the coronavirus that causes COVID-19.
The program leverages the research strengths of the UO, including experts in genomics, data science, prevention science, and other areas.
Our first phase of MAP testing was primarily focused on students living in residence halls. MAP is now expanding to accommodate additional voluntary testing for some groups of employees and students, including students living off-campus (with a focus on those in large apartment complexes or other congregate housing, such as fraternities and sororities), faculty and employees whose work requires them to be on-campus, underserved communities disproportionately impacted by COVID-19, and in some cases, the community at large.
The MAP team is ramping up testing capacity to about 4,000 tests per week – beginning mid-October and expanding into the winter.
Gift Will Expand UO, State COVID-19 Testing
---
MAP Goals
Develop a fully operational clinical laboratory improvement amendments (CLIA)-certified testing laboratory on campus.
 
Create test collection and test processing systems to provide capacity for screening and surveillance testing for COVID-19 at UO and its surrounding community.
 
Employ epidemiological models to forecast the spread and prevalence of COVID-19 in the population as the level of public activity changes and as new students join the population.
 
Use the results of the modeling to develop strategies that local officials and university leaders can enact to suppress the spread of COVID-19 as activity and population changes occur.
---
What to Expect at Your MAP COVID-19 Test
Individuals should not sign up or attend the event if they have tested positive for COVID-19 in the past 90 days; are currently isolating or quarantining due to their contact with a known positive case; or are feeling sick or experiencing COVID-19 symptoms.
On testing day, please show up to the testing site at your scheduled time. At this time, all testing will occur at the Matthew Knight Arena. Please enter via the western entrance.
The testing process itself will require minimal time. While there may be some waiting time, lines are expected to move quickly and you should only need 15-30 minutes to complete the process from start to finish.
Before entering the building there is a station where you will be asked to blow your nose. This helps clear out excess material from your nose and will improve the accuracy of the test. Tissues, a wastebasket for disposal and hand sanitizer will be provided.
After you enter the building, you will go to the testing check-in table. Testing personnel will verify your name and other information about you, such as your 95-number if you are affiliated with the University of Oregon or your date of birth. Testing personnel will also prep your sample collection tube, which you will be asked to take with you to the sample collection station.
The sample collection personnel will give you a collection swab and ask you to collect your sample following this process:
Insert swab pointing toward the back of your nostril.
Press gently against the back of your nostril and rotate the swab once by spinning between your thumb and forefinger.
Leave the swab in place for 10 seconds.
Repeat in the other nostril using the same swab.
When you have completed the collection, give the swab back to the sample collection personnel. If there is any visible mucus, snot, or clotted blood on the swab you'll be asked to repeat the process. Excess material on the swab can interfere with the lab test and it is common to be asked to recollect a sample.
You are then finished with the sample collection. You will receive your results within four days, by 5:00 p.m.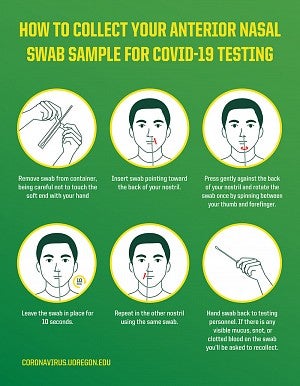 PDF version of How to Collect Your Anterior Nasal Swab Sample for COVID-19 Testing
---
Sample Collection Methods
Self-collected shallow nasal swab (anterior nares)—in use
Deep nasal swab—approved, but not in use
Self-collected saliva—approved, not yet implemented
Sample Processing Methods
TaqMan quantitative PCR (qPCR) – in use
Genotyping by RNA sequencing, and high throughput RNA-seq of entire viral genomes—in use
Saliva Direct—approved, not yet implemented
SwabSeq—optimization in process but not yet approved