When test results are available, a notification via email or text will be sent to you, or for the K-12 program, the student's parent/guardian. The secure result portal can then be accessed by using the link provided in the email.
The portal will not be accessible until results are ready. Wait for email/text notification before attempting to access the portal.
After receiving email/text notification and accessing the portal, enter your name, date of birth, and the confirmation ID from the notification. For the K-12 program, enter the student's name, date of birth, and confirmation ID. All fields must match the data entered at registration and can be found in the confirmation email.
If you have any issues accessing test results, please contact:
---
The results portal login page will look like this: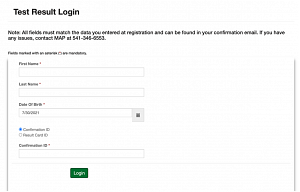 After entering name and date-of-birth, enter the confirmation ID. Make sure Confirmation ID is selected with the blue dot, not Result Card ID. The Confirmation ID can be found in the "Covid-19 Test Result Access Information" notification email and/or text.

Finally, verify that all information entered is correct and select "Login" to see the results of the collection kit test.
How to Interpret Results
After logging into the results portal, the test results will be listed under the University of Oregon Test Results heading in the middle of the page. The COVID-19 test result will be located under the "Result" field.

Use the guide below to help interpret results:
If the "Result" Field displays "SARS-CoV-2 Not Detected", then the sample has tested negative for COVID-19. This means you are likely not infected at the time your sample was collected.
If the "Result" field displays "SARS-CoV-2 Inconclusive" this means that your sample did not produce enough information during the testing process to establish a definitive result. IT IS NOT A POSITIVE OR NEGATIVE RESULT. This result happens from time to time and can be a result of having contaminants in the sample from food, drink or toothpaste, among other reasons. If you are not feeling well, we recommend contacting your health care provider or utilizing a drop-in testing service to get tested again soon to establish your COVID status. Please be sure to participate in next week's testing.
If the "Result" field displays "Re-Collection Necessary" this means, there was a problem with the sample collection, and the UO lab was unable to complete testing. This happens occasionally and may be due to an incorrectly applied label (for instance placed over the barcode), insufficient sample volume, a cap not sealed correctly, or any other reason that a sample could not be processed. Please complete your test next week and follow all instructions carefully.
If the "Result" field displays "POSITIVE SARS-CoV-2" you have the virus in your body and could spread the virus to others. We recommend contacting your healthcare provider or local public health authority and isolating from others immediately.
Cómo ver sus resultados
Cuando reciba la notificación por correo electrónico o por texto de que los resultados están listos, puede acceder a nuestro seguro portal de resultados a través del enlace incluido en el mensaje o pinchando aquí.
Tiene que esperar a recibir la notificación antes de intentar ver los resultados.  
Escriba su nombre, apellido y fecha de nacimiento en las casillas correspondientes, así como el código de identificación que recibió en el correo o mensaje (ID). Esta información tiene que ser exactamente la que usó al registrarse.
Si tiene problemas, póngase en contacto con c19studentsupport@uoregon.edu  o 541-654-9340. Esto es lo que verá al abrir la página web: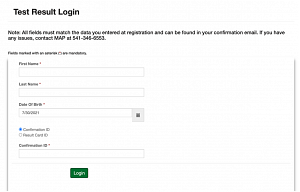 Después de rellenar la información, confirme que "Confirmation ID" está seleccionado con el punto azul, (no "Result Card ID"). Puede encontrar el "Confirmation ID" en el correo electrónico que le informó que los resultados estaban listos. Asegúrese de que la información está correcta y pinche "Login".
Cómo interpretar sus resultados
Una vez que acceda al portal, los resultados estarán en la lista bajo el título "University of Oregon Test Results" en el centro de la página. El resultado de la prueba de COVID-19 está en la casilla "Result"

Use la siguiente guía para interpretar sus resultados:
Si "Result" dice "SARS-CoV-2 Not Detected", la muestra es negativa. Probablemente no está infectado con el virus del COVID-19.
Si "Result" dice "SARS-CoV-2 Inconclusive" la muestra no proporcionó la suficiente información para determinar si el virus está presente o no. LA PRUEBA NO ES NI POSITIVA NI NEGATIVA. Encontramos este resultado de vez en cuando, si la muestra está contaminada con pasta de dientes, etc. Si no se encuentra bien recomendamos que llame a su medico de cabecera y que repita la prueba cuanto antes.  Por favor, participe en la prueba de la próxima semana.
Si "Result" dice "Re-Collection Necessary" hubo un problema con la muestra que no permitió que el laboratorio completara la prueba.  Esto pasa ocasionalmente, y puede deberse a una etiqueta colocada en el lugar equivocado (por ejemplo, cubriendo el código de barras del tubo), cantidad de saliva insuficiente, tapa colocada incorrectamente, o cualquier otra razón que impida que la muestra sea analizada. Por favor, repita la prueba la semana siguiente, siguiendo las instrucciones con cuidado. Por favor, póngase en contacto con nosotros si no está seguro de cómo hacerlo.
Si "Result" dice "POSITIVE SARS-CoV-2" el virus está presente y usted puede transmitírselo a otros. Le recomendamos que llame a su medico de cabecera o a las autoridades de Sanidad, y que evite el contacto con otras personas inmediatamente.
This project is supported by the U.S. Department of Health and Human Services (HHS) as part of a financial assistance award to the State of Oregon. The contents are those of the author(s) and do not necessarily represent the official views of, nor an endorsement, by HHS, or the U.S. Government.