The Corona Corps is a University of Oregon-led initiative focused on providing case investigation, contact tracing, and case management support for positive COVID-19 cases or close contacts within the UO community. The Corona Corps is part of UO's Case Management Team.
Developed by the UO's Center for Global Health and University Health Services, the Corona Corps engages 40 team members, primarily students, to form a care team to help stop the spread of COVID-19.
Students and employees who have tested positive or think they have been exposed to COVID-19 are encouraged to review the COVID-19 exposure scenarios and guidance for students and employees and complete the case and contact form. This form activates the UO Case Management Team.
The Corona Corps will have reduced hours during winter break. Regular hours, 9:00 a.m. - 5:00 p.m., will resume January 3. The Corona Corps winter break schedule is:
December 13-17, 10:00 a.m. - 4:00 p.m.
December 20, 21, 27, 28, 29, and 30, 10:00 a.m. -1:00 p.m.
The Corona Corps will be closed on the following days: December 22, 23, 24, 25, 26, 31, and January 1, 2.
If you are concerned about a COVID-19 exposure or close contact, please submit the case and contact form.
Contact the Corona Corps Care Team
---
Corona Corps
The Corona Corps team can be reached by completing the case and contact webform.
Case Investigation and Contact Tracing
---
Get Involved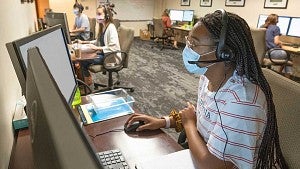 The Corona Corps offers UO students an opportunity to get involved with the public health response to the coronavirus pandemic. Students receive extensive training and can participate as contact monitors, case managers and case investigation support staff.
All Corona Corps members work in consultation with the Lane County Department of Public Health and in coordination with the Oregon Health Authority.
Participation in the Corona Corps is also open to students from higher education institutions throughout the West Coast and the Pacific Rim. .
For more information on being part of the Corona Corps team, contact the coronacorps@uoregon.edu.